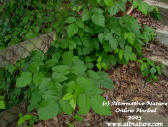 Poison Ivy Pictures
All poison ivy pictures copyright Karen Bergeron and Alternative Nature Herbals.

Poison Ivy and Poison Oak both have the same irritating chemical, urushiol. It does not really matter which plant infects you, the result is the same. However Poison Sumac is more potent and more likely to cause systemic reaction to urushiol.
Jewelweed is the only remedy I know for Poison ivy and oak rash that really works. It works well enough that I don't even worry about breaking out in rashes anymore.
Links to More Poison Ivy Sites

Amazing Jewelweed Remedies for Poison Ivy and Oak Rash
More information or go directly to Altnature Online Store to order.
Read about Jewelweed , Nature's Answer to Poison Ivy rash
I made Amazing Jewelweed Remedies for the first time in 1996 to deal with my own rashes, but have sold over 10,000 since then. Here is what my customers have said.

Dear Karen, Thank you for getting the soap to me so quickly...and for the tincture treat. I experienced quick relief as soon as I used it. You can be sure that I will keep your site at a single click -for those times (and they come too often) when I am again plagued by that tenacious cashew family member. Sincerely, Barbara Goossens
Dear Karen, I was exposed again to poison ivy again! I think I picked it up from my dog, otherwise I would have washed the suspected area with your great soap. As soon as I identified the rash, I started washing with your amazing soap and spraying with the skin soother. The rash never came up to serious blisters much less it didn't become inflamed to the looks of a burn. It lasted only one week, not three! THANK YOU Susan L.
Hi Karen, Your Poison Oak soak and spray is a miracle. I am highly sensitive to Poison Oak and came down with it, again, 3 weeks ago. After now using your products for not quite 2 weeks, I am mostly itch free! The last time I had poison oak, after 3 weeks it was still spreading and I was going crazy! What a treat this is!! Needless to say I have tried every over the counter remedy that there is - and they all fail. This is the first time that I have not had to go get a Benadryl shot. Regards, Wendell C
Thanks SO MUCH for the fast shipment of the Jewelweed stuff. I already washed with it an there is no itching at all. I figure I'll wait till it starts. itching again and then put on the tincture. This is my first experience with poison ivy, now that I recognize the plant I realize it's all over my fence! Thanks again! Robin
More Customer Opinions Order Now!
Phone Orders Monday - Friday Call or text Karen at 931 237 0690