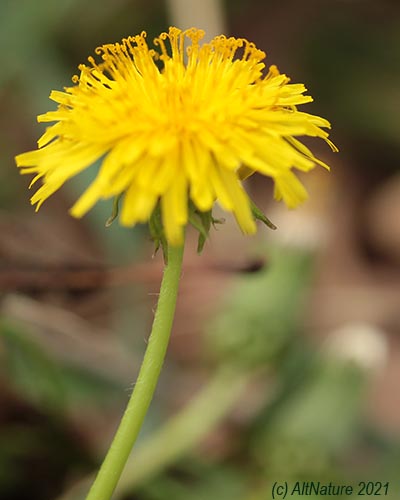 Dandelion
Taraxacum officinale
Other Names Common Dandelion, Lion's Tooth, Priest's Crown, Pu Gong Ying, Swine's Snout, Dent de Lion Dandelion
Dandelion Herbal use and Possible Benefits
The whole Dandelion plant is used as an herbal remedy internally and externally.
Dandelion External Herbal Uses
The fresh juice of Dandelion is applied externally to fight bacteria and help heal wounds. The plant has an antibacterial action, inhibiting the growth of Staphococcus aureus, pneumococci, meningococci, Bacillus dysenteriae, B. typhi, C. diphtheriae, proteus. The latex contained in Dandelion sap can be used to remove corns and warts.
Dandelion Internal Uses
Dandelion is traditionally used as a tonic and blood purifier, for constipation, inflammatory skin conditions, joint pain, eczema and liver dysfunction, including liver conditions such as hepatitis and jaundice. Dandelion is also used for the treatment of the gall bladder, kidney and urinary disorders, gallstones, jaundice, cirrhosis, hypoglycemia, dyspepsia with constipation, edema associated with high blood pressure and heart weakness, chronic joint and skin complaints, gout, eczema and acne. As a tonic, Dandelion is said to strengthen the kidneys. Dandelion is a powerful diuretic but does not deplete the body of potassium.
Dandelion Edible Uses
Dandelion is very nutritious, having more vitamins and minerals than most vegetables. It has a long history of use as a food in many countries. The young leaves are less bitter.
Early Spring leaf makes a tasty green cooked, or can be added to salad raw.
Dried and roasted Dandelion root is used as a coffee substitute.
Dandelion flowers can be dipped in batter and made into fritters.
Unopened Dandelion flower buds can be boiled and served with butter or pickled.
Dandelion Wine is made from fermented flowers said by some to be a very flavorful "tonic".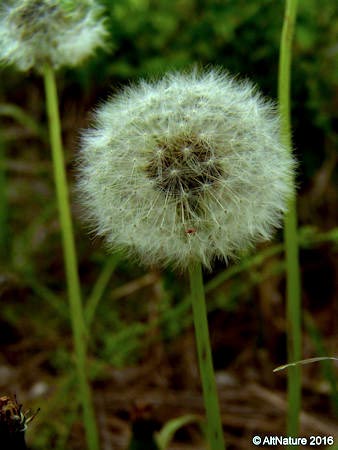 Other Uses for Dandelion
When placed in a paper bag with unripe fruit, the flowers and leaves of Dandelion release ethylene gas ripening the fruit quickly.
A liquid plant food is made from Dandelion roots and leaves. A dark red dye is obtained from Dandelion root.
A cosmetic skin lotion made from the appendages at the base of the leaf blades distilled in water, is used to clear the skin and is effective in fading freckles.
The sap from the stems is used to fade age spots and remove warts.
How to Grow Dandelion
Dandelion is a very easily grown plant, it succeeds in most soils. It becomes quite large when in cultivation. The leaves canreach a foot or more in length.
Dandelion is often cultivated as an edible salad crop and as a herbal plant.
Dandelion Harvest and Use Information
Gather edible leaves and flowers of Dandelion anytime, roots in spring.
Dry for later herbal use.
Dandelion Habitat and Descripton
Dandelion is a perennial herb thought to be introduced from Europe and Asia. It is now naturalized throughout the Northern Hemisphere. No one is sure exactly how the dandelion has spread so widely, and there is some debate on the origin of the plant.
Dandelion is found growing in pastures, lawns, waste ground, sand, rocks, even cracks in concrete. From a thick, long, tap root, dark brown outside, white and milky white inside, grow long jaggedly toothed leaves, shiny, dark to light green and growing in the shape of a rosette close to the ground. A purplish flower-stalks rise straight from the center, it is leafless, smooth, hollow and bears a single bright golden yellow, furry looking flower which blooms almost anytime of the year. When mature the seed in the flowers heads are round and fuzzy, carried by the wind to be germinated where ever they land.
Article by Deb Jackson & Karen Bergeron Shelton (c) 1998 - 2019 Updated 01/17/2019 by Karen Bergeron Shelton
Dandelion Reference Links
Antidepressive Effects of Taraxacum Officinale in a Mouse Model of Depression Are Due to Inhibition of Corticosterone Levels and Modulation of Mitogen-Activated Protein Kinase Phosphatase-1 (Mkp-1) and Brain-Derived Neurotrophic Factor (Bdnf) Expression
Antidepressant-like activity of resveratrol treatment in the forced swim test and tail suspension test in mice: the HPA axis, BDNF expression and phosphorylation of ERK.
Dandelion-enriched diet of mothers alleviates lead-induced damages in liver of newborn rats.
Dandelion root extract affects colorectal cancer proliferation and survival through the activation of multiple death signaling pathways.
Taraxasterol inhibits cigarette smoke-induced lung inflammation by inhibiting reactive oxygen species-induced TLR4 trafficking to lipid rafts.
Antidepressant effects of the water extract from Taraxacum officinale leaves and roots in mice.
Taraxacum official (dandelion) leaf extract alleviates high-fat diet-induced nonalcoholic fatty liver.
Antioxidant properties of Taraxacum officinale leaf extract are involved in the protective effect against hepatoxicity induced by acetaminophen in mice.
Anti-influenza virus effect of aqueous extracts from dandelion.
Dandelion (Taraxacum officinale) decreases male rat fertility in vivo
Evaluation of aqueous extracts of Taraxacum officinale on growth and invasion of breast and prostate cancer cells.
Anti-inflammatory activity of Taraxacum officinale
Share a Dandelion Information Slide!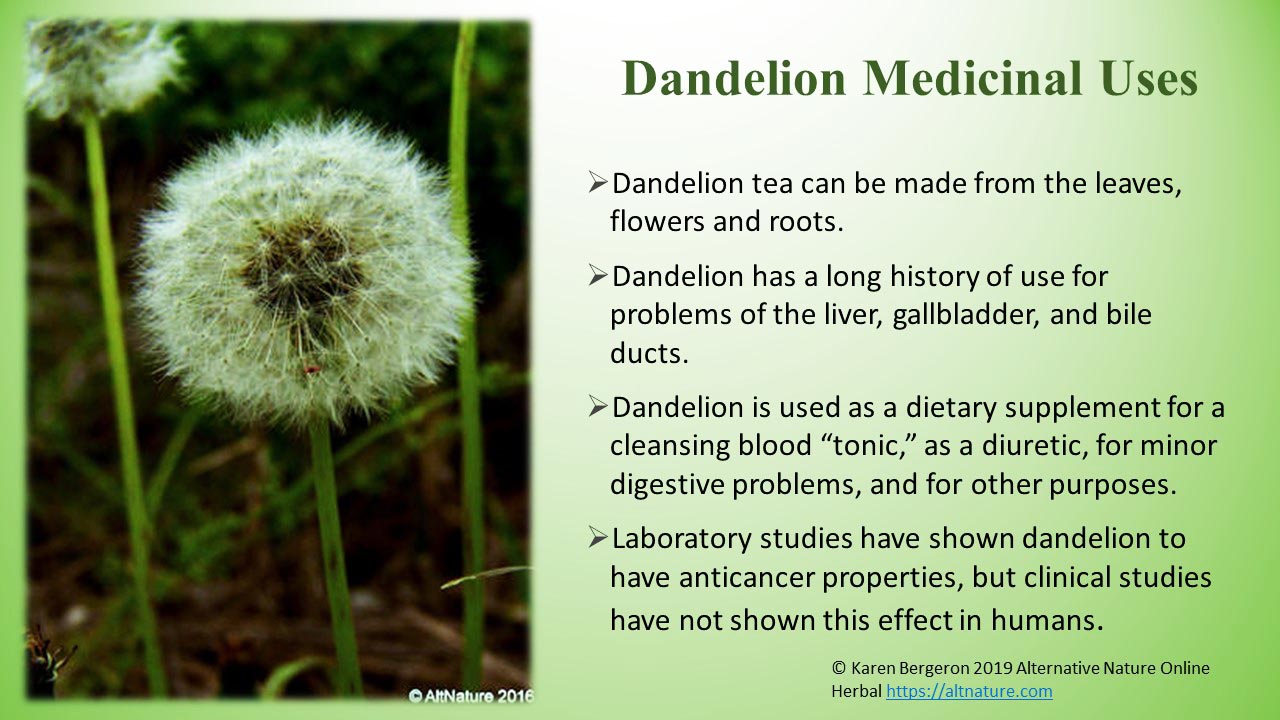 Next > Echinacea, Purple Coneflower