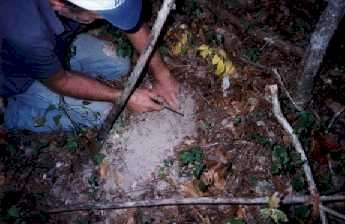 Grandfather Ginseng is a Crafty Gentleman
part 2
digger's diary
by Lee Murray
(c)1997, 2000
"Care must be taken not to damage the ginseng root."
July 30 -- Seng Diggers
Today I put an ad in Adair County News inviting
Seng diggers and woodland owners to join a co-op.

The idea is to plant seed to restock the wild; and to
lease harvest rights from woodland owners. This small step
plants the seed of an idea. Pay the landowner to keep
trees standing. Work together to manage the resource.

The small step brings immediate relief. A promise had
been made to the forest -- the trees, all its animals
and plants -- to give something back.

Mr. Buel Collins, whose family owns the Singing Branch,
was hospitable about digging or even planting.
He didn't guess there was much Seng around though, because,
he said, Ava Lee Huddleston comes through there digging.

Ava Lee Huddleston is the champion Seng digger in this part
of the country. When he fixed the roof on our house,
he walked home across the country 5 or 6 miles.

Most people, when they go Seng digging, park their truck
by the woods and walk around for a couple of hours.
People say that Ava Lee goes for all-day walks and
covers miles of territory.

All-day digging was more common in the past.
Ralph Lewis told about a time when Vernon Bennett
and another digger walked from Crocus and came out
of the woods down on Greenbriar Ridge with
bread-sacks full of Seng.

In many ways, Vernon was a typical Seng digger. He knew
a lot about motors and some about veterinary medicine.

"Vernon was a big Seng digger," says Carlis Turner.
"He had a special sack made to carry over his shoulder
(like a saddlebag). Aunt Pearl probably made it for him."

Recalling childhood visits to Vernon's house,
Dee Hale saw Seng roots hung up and laid up to dry.
"There was a lot of it. I mean, it was everywhere."

Vernon's two sons, David and Dale, dig Seng.
David tells that some friends invited him to go
digging in the summer. They were surprised
when he told them he prefers to wait
until the seed berries get ripe.

Dale said the rattlesnakes are bad on the
lower end of Harvey's Ridge. Ralph Lewis said
it would be a waste of time to hunt on the Greenbriar
Ridge, because the Seng was all dug out.

Buel Collins drove the school bus. He would pick up
a load of kids at Aarons's store, where we waited,
drinking Nesbitt's Orange pop and listening to
George Jones and Tammy Wynette on WAIN.

The generation that grew up in the Great Depression
of the 1930s, grew up with the forest all around.
They depended on the forest for a lot of things.
They cleared farms and cut firewood in their time,
but still they felt the value of timberland
as a source of long term security. They remember
picking out a few trees to cut and snake out of the woods
with mules. It would take all day to cut and trim
one or two logs with a cross cut saw and axe.
August 1 -- Henry Garnett Place
Everybody and all this nature is all part of
one Creation. One Life that was made together.
There must be a reason why God made it that way.

The Henry Garnett house is a grand estate
built of homemade bricks in the 1800's.
The front porch is palisaded by four white columns
in the colonial style. The driveway winds for a quarter
mile and leads around to the side of the house.

A woman comes to the screen door, wiping her hands
on a dish towel. Would she give permission to look
on the place for Seng and Yellowroot (Goldenseal)?

She steps out onto the rectangular limestone rock
that is the back step. Wearing a grey mid-calf length skirt
and a cotton blouse of beige, she has a certain
light way of moving. Something about her eyes
and how she is seems unusually alert and independent.

"There is no Seng on the place," she says;
"It's all been dug out. But go ahead and look
for Yellowroot if you want to, because
I don't know about that."

"Thanks for asking," she adds. "Most of 'em
just go ahead without asking."

Edging along a tall cornfield on the way up the creek,
some very large Solomon's Seal was growing on the creek bank.
Single, palm-like branches lift 6 or 7 feet above the earth
and curve down with grace. Dark berries hang from
the leaf nodes.

Standing by the shaded stream, the plants
suddenly look like a flock of dark swans
grazing and preening. This patch must be centuries old.

True Solomon's Seal is rarely seen around here,
and the size of these specimens is unheard of.
On the other hand, False Solomon's Seal is quite common;
it looks the same except the berries are all at the tip.
On the way back, I would dig one of the plants. Its white,
knobby smooth root is the size of a large steak. It can
be sold for a few cents a pound. Maybe the berries are
ripe enough to plant.

Walking upstream, this customized hoe makes a walking
stick, turning aside the wet weeds so as not to
step on a loose rock or a snake, or who knows what.

The short-handled hoe, called a cultivating hoe,
came from Jeffries Hardware in Columbia.
Matthew Brummett used a grinder to round off the
square corners. So it has a little round blade, and
the other side has 3 prongs cut to a point.

The hoe is okay for digging Goldenseal or Wild Yam,
whose roots lay close to the top of the ground.
For Ginseng, the hoe is too clumsy. Your tool for
digging Seng is a good-sized flat blade screwdriver.

The hoe is an all-purpose walking stick. This one has
a very crooked handle made from green Maple.

Up a west branch, around back of the farm house,
turned out to be only grass and weeds among those trees --
no forest herbs.

Turning up the main branch southwards towards the
lower end of Yellowhammer woods. The first trees uphill
from the creek is a 4-acre patch of Cedars about 35 years
old, fenced for hogs with only bare dirt under the trees.
No hogs are visible.

As recently as 1950 it was common for most country men
to dig a little Seng, selling it for about $7 a pound.
There have always been a certain few individuals
who spent more time at this occupation.

For many years especially before World War II,
Mayapple (American Mandrake), Wahoo and other herbs
were commonly harvested for money. In those times,
people did not use money every day as we do now. Most
everything was grown, hunted, made with your hands,
or traded. Money was not common.

Paul Bunch tells about one early morning his Dad,
Rufus, took some Haw bark to Bert Collins's store
at Graball. The bark had some wood stuck to it
so Bert said, "Rufus, we don't buy no wood."

Rufus replied, "You need to buy some wood to build up
that fire." It was a cold morning and the stove
was barely putting out any heat.

We children helped our Mother dig Mayapple.
We may not have been much help, but she had
3 burlap sacks full on a bright windy afternoon
beside the edge of the woods.

Mayapple, along with about 30 other herbs, is still
bought today for medicinal preparations. Most of these
herbs bring very low prices. A very few people continue
to harvest these more common herbs, having both the time
and the interest.

After the walk through wet weeds, finally arriving
at the woods proper, feeling a little stiff.
Take a zig-zag path, keep in sight of the edge of the
woods, trying to relax.

Nearly an hour later, there is a nice Ginseng specimen
by itself among other different herbs. Then shortly,
another healthy plant growing by rotten logs. Seed are
still green, showing some red color: not quite ripe.
Three young plants together among the scrub; later,
one 3-prong by itself with 3 seed.

A long time after, here is a nice patch. Six 3-prongs
all bearing seed and a dozen younger plants around.

Scatter Tobacco at these locations as a gift
to Grandfather Ginseng. The plants always remember
when you give them a gift.

Turning back, close to the edge of the woods, a large
strong plant with 4 prongs is discovered.

It was a long walk in gloomy weather. The woods appear
to have been logged about 30 years ago, from the stumps.
There are very few trees over 50 years age. Plant life
on the forest floor is scattered and sparse, indicating
cattle have probably grazed the woods at some time
in the past.

The plants reveal themselves as you gain their trust.

Thanks for reading!

Copyright Lee Murray and Alternative Nature Enterprises 1997, 2000