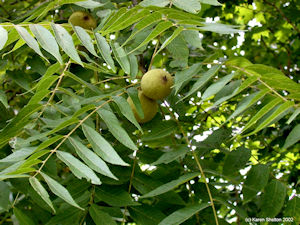 Black Walnut Uses
Juglans Nigra
Parts Used Bark, Leaves, Fruit Hulls (Green), Nut (Edible)
Article and Photographs Copyright Karen Shelton, Karen Bergeron 2001-2021
The graceful Black Walnut is a common tall hardwood tree in the Eastern United States. Self seeds easily. It is said that Black Walnut trees exude a chemical that prevents some types of other plants from growing around it.
The wood is used for fine furniture. In herbal medicine, Black Walnut leaves have been used to make a soothing skin and eye wash, powder from green hulls is anti-parasitic, the bark is astringent and was chewed for toothaches. Use poultice of green hulls for ringworm. Inner bark used as a laxative. Do not use internally during pregnancy.
Black Walnuts are hard to crack, but the nut is extremely tasty and some companies buy them in large quantities. If this plant is common in your area, you may see newspaper ads offer to buy them in the fall. The market for Black Walnuts exceeds a million dollars a year.
Book References
The Herb Book by John Lust
The Complete Medicinal Herbal by Penelope Ody
Peterson Field Guide to Eastern/Central Medicinal Plants
References - Informative Web sites
Wildman Steve Brill - Cracking Black Walnuts and Recipes
More information about the Black Walnut tree and its uses
Black Walnut Herbal Uses and Contraindications