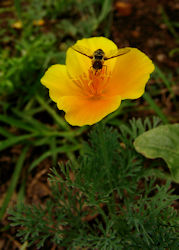 California Poppy
Eschschoizia californica
California Poppy Herbal Uses
California poppy does not contain opium, nor does it have the same addictive qualities as opium. However, the herb is used in herbal medicine as a milder remedy for many of the same conditions; it has anodyne (pain relieving) and tranquilizing properties. It is said that instead of causing the psychological problems known to opium poppies, it is mentally stabilizing. It is often used in the form of a tincture, because the infusion is bitter. The tincture is made from the above ground parts, harvested during the flowering period. As a remedy, California poppy should not be used prior to driving or any other task that requires full attention until the user is familiar with its effects.
How to Grow California Poppy
California Poppy is easy to grow from seed as an annual, and will tolerate hot, dry conditions. It will thrive with some moisture and part shade. It is an attractive flower, with finely dissected blue-grey-green foliage and small, pretty orange flowers. California Poppy is the state flower for California.
References - Book
The Complete Medicinal Herbal by Penelope Ody
Informative Web sites
California Poppies Herb Picture