Ground Ivy Herb Use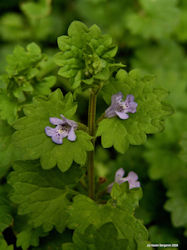 Glechoma hederacea
Other Names: Ale-hoof, Cat's foot, Creeping Charlie, Gill-over-the-ground, Gillrun, Hay maids, hedge maids
Ground ivy is used in alternative medicine and is an excellent spring tonic. It is used as an appetite stimulant. Ground Ivy contains a volatile oil which aids in relieving congestion and inflammation of mucous membranes associated with colds, flu, and sinusitis. Ground ivy tea or juice is well tolerated and can be given to small children.
Ground-Ivy is being studied for use in preventing Leukemia, Bronchitis, Hepatitis, many kinds of cancer, and HIV. The fresh juice or a herbal tea is used to treat digestive disorders, gastritis, acid indigestion, and diarrhea. It is also beneficial for liver and kidney function, said to relieve gravel and stones. Although results are not conclusive, it is being used as an antidote for lead poisoning. Ground Ive can be added to bath as an emollient to soften skin and has a sedative effect. It is used in Italian bath spas as a soak for backache.
Ground Ivy is Anti-allergenic, Antibacterial, Anti-flu, Antihistaminic, Anti-inflammatory, Antioxidant, Antiseptic, Antispasmodic, Antiviral, Cancer-Preventive, Expectorant, Immune-stimulant, and Sedative. Some of the most valuable plant constituents are 1,8-cineole, alpha-pinene, apigenin, beta-sitosterol, borneol, caffeic-acid, ferulic-acid, hyperoside, iodine, luteolin, menthol, oleanolic-acid, rosmarinic-acid, rutin, ursolic-acid.
Ground Ivy Habitat and Description
Ground ivy is a creeping European perennial evergreen, naturalized in North America and found in moist shady areas, along paths, around hedges, and roadsides from Ontario to deep south, west to Kansas, and along the Pacific Coast. A member of the mint family, it is finely haired all over and has a square creeping stem which grows from a few inches up to two feet long. The leaves are heart shaped, opposite, scalloped, and dark green, sometimes tinted purple. The main root is thick and matted. It sends out runners as long as 36 inches. Ground Ivy flowers appear in march and are purplish to blue, two lipped and grow in axillary whorls of six.
How to Grow Ground Ivy
It is easily cultivated through root division and thrives in moist shady areas. As it is considered an invasive weed by many who are not aware of its uses, you may not want to grow it. Ground Ivy is a great herb for wildcrafting, due to its abundance.
How to use Ground Ivy
Gather leaves, flowers and stems year round. Can be dried for later herbal use.
Ground ivy has a long history of use in alternative medicine and as an edible herb, dating back to the first century A.D. it was long considered a panacea (cure-all). Known for its high vitamin C content, it is said to be one of the first herb and edible plants brought to the North American continent by early settlers.
Ground Ivy Herb Recipes
Spring Tonic: Steep 2 tsp. of fresh or dried herb in 1 cup water for 10 min. flavor with peppermint or honey to taste take in half cup doses twice a day.
Colds and flu: Express fresh juice with press. Take in 1 tsp. doses 3 times a day, ? tsp. for children. Use 2 or 3 drops in nose twice a day for sinusitis.
Article by Deb Jackson & Karen Bergeron