Wild Geranium, Cranesbill
Geranium maculatum
Found in rich woods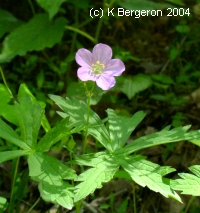 Wild geraniums are not related to the garden varieties you get at the nursery.
Photo by Karen Bergeron
Antiviral Res. 2008 Aug;79(2):114-20. Epub 2008 Apr 7.
In vitro and in vivo anti-hepatitis B virus activities of a plant extract from Geranium carolinianum L.
Li J, Huang H, Feng M, Zhou W, Shi X, Zhou P.
Department of Biosynthetic Medicinal Chemistry, School of Pharmaceutical Sciences, Fudan University, Shanghai 200032, PR China.
Abstract
Natural products provide a large reservoir of potentially active agents with anti-hepatitis B virus (HBV) activity. We examined the effect of the polyphenolic extract from Geranium carolinianum L. (PPGC) on HBV replication both in vitro and in vivo. In the human HBV-transfected liver cell line HepG(2) 2.2.15, PPGC effectively suppressed the secretion of the HBV antigens in a dose-dependent manner with IC(50) values of 46.85 microg/ml for HBsAg and 65.60 microg/ml for HBeAg at day 9. Consistent with the HBV antigen reduction, PPGC (100 microg/ml) also reduced HBV DNA level by 35.9%. In the duck hepatitis B virus (DHBV) infected ducks, after PPGC was dosed intragastricly (i.g.) once a day for 10 days, the plasma DHBV DNA level was reduced, with an ED(50) value of 47.54 mg/kg. In addition, Southern blot analysis confirmed the in vivo anti-HBV effect of PPGC in ducks and PPGC also reduced the plasma and the liver DHBV DNA level in a dose-dependent manner. Furthermore, significant improvement of the liver was observed after PPGC treatment, as evaluated by the histopathological analysis.
Next : Wild Ginger