Japanese Honeysuckle
Lonicera japonica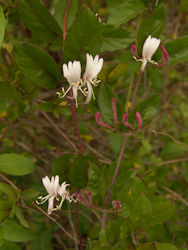 Japanese Honeysuckle is also known by these names : Chin Yin Hua, Chin Yin T'Eng, Honeysuckle, Japanese Honeysuckle, Jen Tung, Jen Tung Chiu, Jen Tung Kao, Sui-Kazura, Yin Hua, Hall's Honeysuckle, White honeysuckle, Chinese honeysuckle, Halliana
Japanese Honeysuckle Herb Uses
Japanese Honeysuckle herb has been used as an alternative medicine for thousands of years in Asia. Honeysuckle is a sustainable alternative to Goldenseal. A decoction of Honeysuckle stems is used internally in the treatment of acute rheumatoid arthritis, mumps and hepatitis. Honeysuckle stems and flowers are used together as a herbal infusion in the treatment of upper respiratory tract infections (including pneumonia) and dysentery. An infusion of the flower buds is used in the treatment of a wide range of ailments including syphillitic skin diseases and tumors, bacterial dysentery, colds, and enteritis. Experimentally, the flower extracts have been shown to lower blood cholesterol levels and are antibacterial, antiviral and tuberculostatic. Honeysuckle is also used to reduce blood pressure. Externally, the flowers are applied as a herbal wash to skin inflammations, infectious rashes and sores.
The active constituents of Japanese Honeysuckle include calcium, elaidic-acid, hcn, inositol, linoleic-acid, lonicerin, luteolin, magnesium, myristic-acid, potassium, tannin, and zinc. It is alterative, antibacterial, anti-inflammatory, antispasmodic, depurative, diuretic, febrifuge,
Other uses for Honeysuckle include; Ground cover, Insecticide, Basketry, vines used to make baskets. The white-flowers of cultivar 'Halliana' has a pronounced lemon-like perfume.
Harvesting and Using Honeysuckle
Honeysuckle stems are harvested in the autumn and winter. The flowers are harvested in early morning before they open. The herb is dried for later herb use. This plant has become a serious weed in many areas of N. America, but it might have the potential to be utilized for proven medicinal purposes.
Japanese honeysuckle is ediblel. It is high in calcium, magnesium, and potassium. The leaves can be parboiled and eaten as a vegetable. The edible buds and flowers, can be made made into a syrup.
Japanese Honeysuckle Habitat and Description
Japanese Honeysuckle is a perennial herb Native to E. Asia - China, Japan, Korea, now naturalized in Britain and the US, from southern New York and New Jersey south, to southern Florida, and west to southwestern Texas. Inland it is distributed from Pennsylvania and West Virginia west to Missouri, Kansas, and Oklahoma. In the eastern and southern United States, Japanese honeysuckle is an important white-tailed deer food and is often invasive.
Japanese Honeysuckle is a climbing vine or shrub. It has a dense root system that may extend laterally for a distance of 7 to 10 feet, and attain depths of 3 to 4 feet. The simple, opposite, pinnate leaves are oval to oblong in shape and are semi-evergreen and may persist on vines year-round, up to 3 inches in length. Japanese Honeysuckle flowers range from 1 to 2 inches in length and are white with a slight purple or pink tinge when young, changing to white or yellow with age, they are edible. The extremely fragrant, two-lipped flowers are borne in pairs in the axils of young branches and are produced throughout the summer. . The fruit is a black, berrylike drupe with three to five one-seeded stones.
Growing Honeysuckle
Do not start new plants! It is a noxious weed. Japanese Honeysuckle prefers partial shade to full sun and moist soil. Prune back hard in winter to prevent the build-up of woody growth, provide a trellis.
Honeysuckle History and Folklore
Saponins in Japanese honeysuckle are much more toxic to some creatures, such as fish, and hunting tribes have traditionally put large quantities of them in streams, lakes etc. in order to stupefy or kill the fish
Read More about Honeysuckle Uses (Sponsored Informative Link)
Article by Deb Jackson & Karen Bergeron