Wild Herb plants are used for food, spices, fragrance, and have a long history of traditional medicinal uses. Many wild medicinal herbs have properties and constituents that show potential in modern medicine, though more research is needed.
Self-medicating with herbs and supplements can be dangerous. Please discuss your use of herbs, vitamins and dietary supplements with your physician. Some herbs have side effects and dangerous interactions with other medications. Use of improperly identified plants can cause sickness and even death.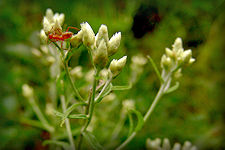 The Wildflower and Wild Medicinal Herbs Gallery has profiles about many wild medicinal plants used in herbalism. Learn about useful edible and medicinal herbs such as ground ivy , plantain and violets and more growing wild in your yard.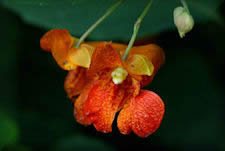 Jewelweed is a North American annual that can easily be found along creeks and in ditches in summer and fall. It is well known in folklore and on Facebook for using as a wash or salve for Poison Ivy and Oak. Learn to find it and use it in the wild, or order my AltNature's Jewelweed Soap, Salve and Spray so you have it on hand when you need it.
Osage Orange is a tree that gets little love and respect since it's main use was replaced with barbed wire. It bears large bumpy fruits full of sticky latex and fiber. The ripe, sliced and dried fruit makes a pleasant herbal infusion that may have many healthful properties as it containes isoflavones and anti-oxidants. Hedge Apples may not be very palatable as a fruit, but they are not toxic.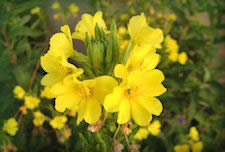 Hundreds of herb and wildflower pictures to browse!
Herb and Botanical Stock Photography available for licensing, or just view plant pictures to see how many wild herbs you may already be familiar with.
Most herbs that I photograph are in their wild habitat in Tennessee and Illinois, but I have many pictures of garden herbs as well.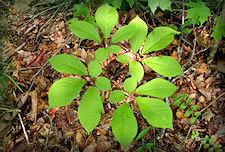 Experienced Ginseng Growers share information about growing and harvesting Ginseng, Ginseng Buyers List, Ginseng Links list, Ginseng Seed Sources and more. Comments and questions welcome.

Many people are helping the population of Ginseng and other herbs with "Forest Farming". Ginseng is fairly easy to grow if you have forest land, and is a good crop for a long term investment. The best Ginseng roots are over ten years old.